Making A Difference In The Community!
The Lois & Richard Nicotra Foundation is helping local organizations by providing necessary funding and support. Including:
Staten Island Children's Museum
Metropolitan Fire Association
The Sandy Ground Historical Society

---

Richmond County Orchestra
Musical Chairs Chamber Ensemble, Inc.
Sisters of St. John the Baptist, Inc.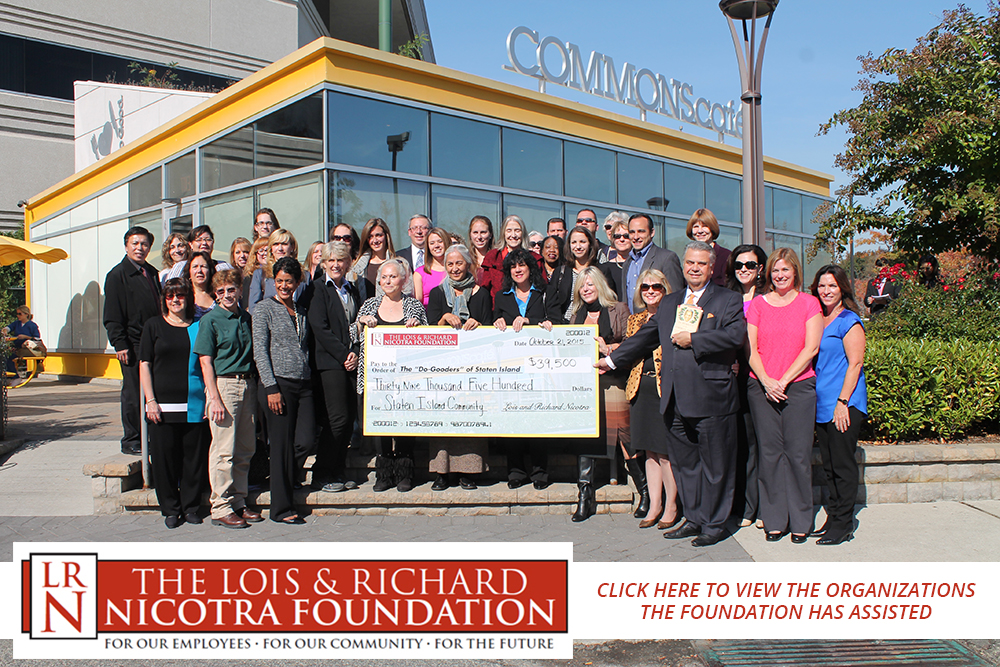 ---
Friends of Seamen's Society for Children and Families
Dear Mr.  & Mrs. Richard Nicotra, On behalf of the Board of Trustees and the Seamen's Society for Children and Families we want to express our sincere thanks for your efforts in helping us meet the Challenge Grant that President Clinton issued at the Black and White Gala on October 27th, 2011. Your gift of $1,000 will help us achieve our goal of $50,000 that will be matched dollar for dollar by President Clinton.  We appreciate your commitment to the Seamen's Society and your desire to help us maintain the support that is essential to deliver the programs our kids need and deserve. Thank you for accepting President Clinton's challenge and investing in our children.  The children that stood before him at the event prompted him to remind all of us that, "these are all our children, and we have got a big stake in their becoming what God meant them to be, to be able to live their dreams."  This grant will enable these kids to see their dreams become a reality. With heartfelt thanks, Nancy R. Vomero President/CEO
---
ECHO (Emergency Children's Help Organization)
"THE EMERGENCY CHILDREN'S HELP ORGANIZATION (ECHO) IS TRULY HONORED TO BE A RECIPIENT OF A MOST GENEROUS GRANT FROM THE LOIS & RICHARD NICOTRA FOUNDATION. THE GRANT ENABLED ECHO TO ASSIST A FAMILY IN CRISIS WITH LIVING ESSENTIALS, ALONG WITH PROVIDING TUITION ASSISTANCE FOR THEIR CHILD'S SPECIAL NEEDS THERAPY PROGRAM..........." Pasquale Loporcaro, Executive Director, ECHO
---
Amazing Grace Interfaith Ministry
Dear Lois & Richard Nicotra, When you first opened the Hilton until today, you have been warm and giving to all people, big organizations and small outreaches. I was so very moved receiving the grant of $1,000 from both of you---you are true earth angels.  I bless your foundation and will always pray for both of you and hold you in my heart. One last note, Richard---you have it all over Paul Newman!! Blessings, Rev. Mary Hansen Rev. Robert Hansen Rev. Dr. Jerylyn Jacob Rev. Francine Hillpot
---
Dear Kristine, Thank you for your donation of $1,000 to support needy children in the Port Richmond area of Staten Island. February 4, 2012 will be designated as a Nicotra-Give-A-Way of new clothing items that cannot be recycled. We will send you more information and pictures after the event. Blessings, Rev. Mary Hansen Rev. Robert Hansen Rev. Dr. Jerylyn Jacob Rev. Francine Hillpot
---
Thank you for an absolutely wonderful event on Saturday! Not only did the Commons Café offer exquisite food, but Chris and the entire staff were so helpful, and an added value was the weather cooperated. We had a nice group of people participate including Mr. Nicotra who came to greet us. It was a lovely day for our students, their families and friends...We look forward to working with you again next year and we will certainly let others know how great the Commons Café really is. Thank you to all who helped make this event a success! Warm regards, Lianna