YOUR MEAL. OUR MISSION. EAT GOOD.
Much of our food is grown locally. Our building has green features to reduce our carbon footprint. Our roof is so green we have to water it. We use recyclable packaging when we can. The burgers are 100% antibiotic-free, North American certified Angus Beef. We've got Boar's Head meats and Junior's cheesecake right out of Brooklyn. We're doing our best to keep it local and keep it green.
DO GOOD.
100% of the net profits do good things for Staten Island. The money we make sends students to school. It plants flowers and cleans streets. It helps non-profit organizations on Staten Island help others.
No catches. You spend it. They get it.
Kind of makes the burger taste even better, right?
EAT GOOD. DO GOOD.
Your meal is on a mission.
Nicotra Foundation Presents A Total Of $69,636 In Awards And Scholarships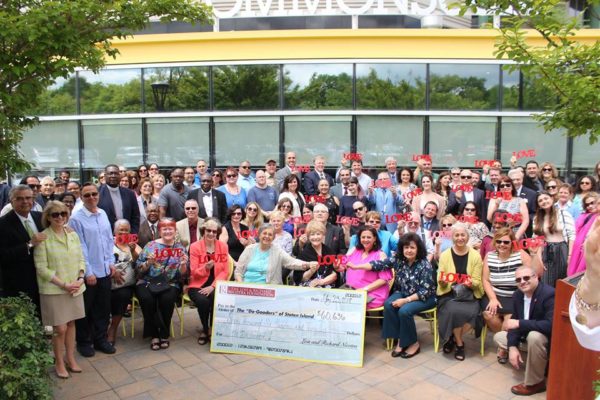 On May 23, 2018, philanthropists Lois and Richard Nicotra gathered at the COMMONS café, their Bloomfield social enterprise eatery where 100% of the profits are awarded in grants and scholarships, with 72 grant recipients as The Lois & Richard Nicotra Foundation presented $69,636 in awards.
Joe Dai, President of MacKenzie Door Company, gifted each grant recipient with a $100 American Express Gift Card and their own miniature LOVE so that they can show a kindness to others. This 'Pay It Forward Project' is thanks to Mr. Dai's $9,000 gift to The Nicotra Foundation. Joe shared, "I was taken by the way The Nicotra Foundation was sharing LOVE with their community, and I'm so excited to see how the grant recipients use their $100 gift card to grow this movement."
Richard Nicotra shared, "Joe's gift gives us a hope that philanthropy and kindness are infectious. We think that our grants and Joe's gift really speaks to our Foundation's mission to 'do good' for those around you in your community." Richard Nicotra referenced Warren Buffett's historic gift to the Bill & Melinda Gates Foundation and Buffett's confidence in the Gates Foundation's ability to effectively distribute the funds and expressed that he felt Joe had shown the same confidence in The Nicotra Foundation, which was gratifying.
"Maybe we'll be a conduit for more people like Joe who want to 'Pay It Forward'," Nicotra shared, "Because our Foundation does know how to do this and I think that we do it well. It says to me that what we are doing is working – so, don't forget to be nice. Don't forget to come to the café because the more burgers we sell, the more we can give away."
The Nicotras shared their pride in gifting nearly $700,000 from the café and discussed plans for their next social enterprise eatery, Pienza Pizza, Pasta & Porchetta, and their intention to double their giving once that eatery opens in their newest building, Corporate Commons Three.
Lois Nicotra congratulated the nonprofit groups present on "all of the good they do in our community. We all know how important social responsibility is but isn't it wonderful to realize how rewarding it is to do good for others."
Since 2011, The Lois & Richard Nicotra Foundation has awarded $699,500 to more than 355 Staten Island based non-profit organizations and scholarship recipients. The Nicotras announced plans for a second social enterprise eatery, also located at the Teleport, which will be three times the size of the COMMONS cafè and join the cafè's mission to "Eat Good. Do Good.", giving 100% of the profits to charity.
---
MAKING A DIFFERENCE
Scholarships For Employees' Children.
Sponsored by
The Lois & Richard Nicotra Foundation
for the children and grandchildren of employees of the
Hilton Garden Inn, the Hampton Inn & Suites,
The Nicotra Group and Corporate Commons.
Download the application here.
---
Grants For Non Profit Organizations.
The Lois & Richard Nicotra Foundation provides support for non profit organizations primarily located in
the Borough of Staten Island and aids in the support of higher education for the children and grandchildren of the
employees of The Nicotra Group, the Hilton Garden Inn Staten Island and the Hampton Inn & Suites.
Download the application here.
---
View the Organizations and Foundations we've assisted