YOUR MEAL. OUR MISSION. EAT GOOD.
Much of our food is grown locally. Our building has green features to reduce our carbon footprint. Our roof is so green we have to water it. We use recyclable packaging when we can. The burgers are 100% antibiotic-free, North American certified Angus Beef. We've got Boar's Head meats and Junior's cheesecake right out of Brooklyn. We're doing our best to keep it local and keep it green.
DO GOOD.
100% of the net profits do good things for Staten Island. The money we make sends students to school. It plants flowers and cleans streets. It helps non-profit organizations on Staten Island help others.
No catches. You spend it. They get it.
Kind of makes the burger taste even better, right?
EAT GOOD. DO GOOD.
Your meal is on a mission.
---
MAKING A DIFFERENCE
Scholarships For Employees' Children.
Sponsored by
The Lois & Richard Nicotra Foundation
for the children and grandchildren of employees of the
Hilton Garden Inn, the Hampton Inn & Suites,
The Nicotra Group and Corporate Commons.
Download the application here.
---
Grants For Non Profit Organizations.
The Lois & Richard Nicotra Foundation provides support for non profit organizations primarily located in
the Borough of Staten Island and aids in the support of higher education for the children and grandchildren of the
employees of The Nicotra Group, the Hilton Garden Inn Staten Island and the Hampton Inn & Suites.
Download the application here.
---
View the Organizations and Foundations we've assisted
---
THE LOIS & RICHARD NICOTRA FOUNDATION AWARDS

$58,843

TO "DO GOOD" ON STATEN ISLAND;
$910,000
PLUS AWARDED SINCE 2011
"
Nicotra Foundation hosts October 16 Awards Ceremony at the Nicotra operated COMMONS café, which donates 100% of the profits to benefit Staten Island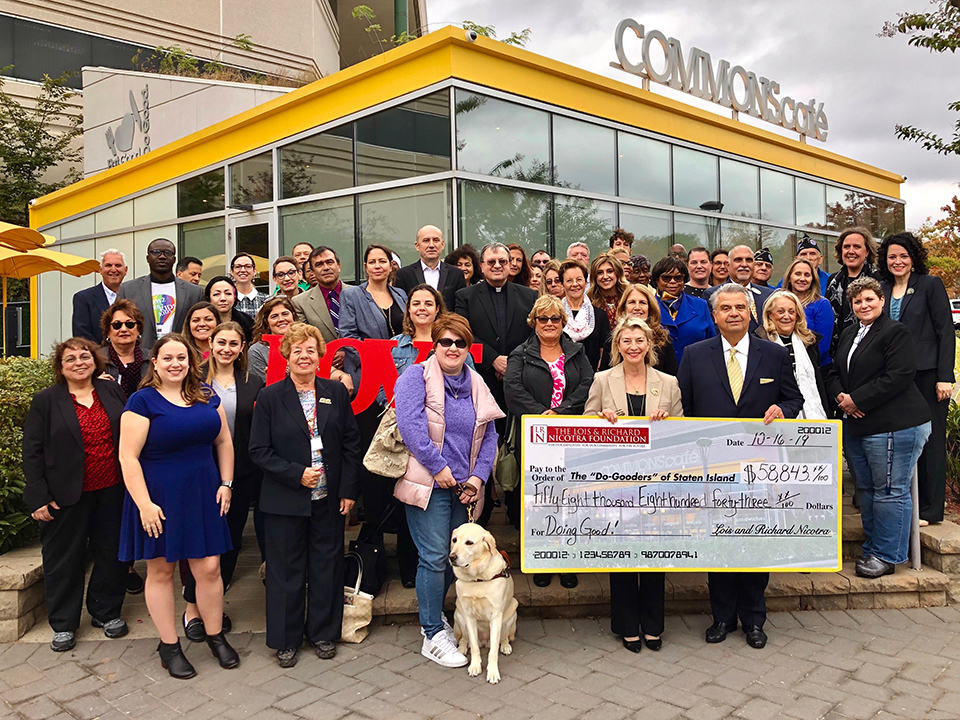 On October 16th, 2019 philanthropists Lois and Richard Nicotra gathered at the COMMONS café, their Bloomfield social enterprise eatery where 100% of the profits are awarded in grants and scholarships. More than 50 grant and scholarship recipients attended the event, as The Lois & Richard Nicotra Foundation presented $58,843 in awards.
The Nicotra Foundation continues to partner with Joe Dai, President of MacKenzie Door Company to gift each grant recipient with a $50 American Express Gift Card so that they can show an act of kindness to others. This 'Pay It Forward Project' has empowered the grant recipients to be philanthropists and cause a ripple of kindness in the community.
Friends of the Lois & Richard Nicotra Foundation, Linda Burgos and Gary Skolnick, representing Americare Systems, generously presented the Foundation with a $2,500 check to support the Nicotra Foundation's efforts.
Richard Nicotra shared, "Just by buying a tray of cookies for a group of veterans or bringing some flowers to a nursing home; with $50, you can change someone's day." Nicotra shared, "There should be more niceness in the world. We always try our best to be nice."
The Nicotras shared their pride in gifting a total of $908,608 to 423 Staten Island based non-profit organizations and scholarship recipients from the café since it opened in 2011. Expanding on their "Eat Good. Do Good." mission, they discussed plans for their next social enterprise eatery, "Pienza Brick Oven Pizza", which will also gift 100% of the profits. This new eatery is expected to double the Nicotra Foundation's annual giving once that eatery opens in their newest building, Corporate Commons Three. The Nicotras also shared that they are on target with their philanthropic giving goal of awarding $1 Million by the end of 2020.
Lois Nicotra congratulated the nonprofit grant recipients on, "the good they do for Staten Island." She shared, "You know what it means to be socially responsible. You also know how rewarding it is to do something for someone else."
_____________________
October 16th Nicotra Foundation Grant Recipients Included:
Beacon Christian Community Health Center

Camp Good Grief of Staten Island Inc.

CPL Allan F. Kivlehan Chapter K.W.V.A. Inc.

Friends of Alice House

Girl Scout Troop 5114

I Am Empowering Inc.

Illuminart Productions

Integration Charter Schools

I.S. 49 Dreyfus Intermediate School

I.S. 75

Maker Park Radio, Inc.

Muscular Dystrophy Association Inc.

Our Lady of Pity- St. Anthony of Padua Church

Pakistani Civic Association of Staten Island, Inc.

Protectors of Pine Oak Woods

P.S. 10 Fort Hill Collaborative Elementary

P.S. 18

P.S. 19

P.S. 21 R The Margaret P Emery Elm Park School

P.S. 30 The Westerleigh School

P.S. 37r- David Marquis School of The Arts

P.S 42 PTA Eltingville School

P.S. 57

P.S. 78

RB2KIDS, Inc.

Rhema Prayer Ministries, Inc.

Richmond County Bar Association Volunteer Lawyers' Project, Inc.

Special Olympics New York- New York City Region

St. Peter's Boys High School

Staten Island Center for Independent Living, Inc.

Staten Island Children's Museum

Staten Island Museum

Staten Island Multiple Myeloma Support Group

Staten Island NFP Association, Inc

Staten Island Reading Association

Staten Island Slim Down, Inc.

Staten Island South Shore YMCA

The Leukemia & Lymphoma Society

The Staten Island Youth Soccer League, Inc.

Tottenville High School

United States Sierra Leonean Association

Unity Games

Urban Hope

Visions/Services for the Blind and Visually Impaired

Walk to End Alzheimer's (2019) Staten Island

Where to Turn

WOMEN'S4CHANGES, Inc.
Previously Awarded:
Catholic Charities of Staten Island

Out of the Darkness Community Walks

St. Benedetta

Sunrise Day Camp – Staten Island
Thirteen scholarships were awarded to the following children/grandchildren of Nicotra Group employees:
Arbesa Avdalovic

Alba Cami

Mya Cook

Gabriella Gonzalez

Brianna Marfa

Gianna Marino

Maria Mazzola

Sophia Paone

Raphael Pollante

Anthony Rao

Katrina Scarimbolo

Laura Scarimbolo

Vincent Tavella